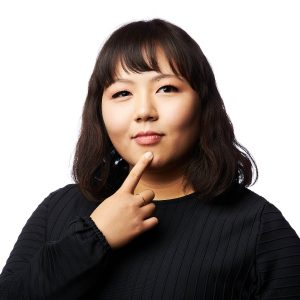 Assistant Project Manager | Architecture Group
Ames Han is a California licensed architect within the architecture group at Vegas Builds. Her duties as an assistant project manager include working on OHSPD 1 and 3 projects in various phases of design (programming, schematic design, design development, construction documents, construction administration, and closeout), as well as working on non-OSHPD projects and developing graphics. Ames has worked on projects on both the Los Gatos and the Mountain View campuses of El Camino Health, and she has also worked on clinics throughout Northern California for Silicon Valley Medical Development (SVMD). Some of these projects include an interventional services equipment replacement project, sterile processing equipment replacement projects, and primary and specialty care clinics.

As she continues to work in healthcare architecture, Ames wishes to expand upon her knowledge of OSHPD and California Building codes. Ames graduated magna cum laude from Cal Poly with her Bachelor of Architecture (B.Arch) in 2019, and has been working in healthcare architecture ever since. While healthcare architecture was not something she anticipated to start a career in, Ames is glad she chose such a meaningful field of architecture to explore.

While she may be architect during the week, on her spare time Ames is a beekeeper, a poulterer, and a shepherd who enjoys life on the homestead in rural Hollister, California. When she's not occupied with work, she can be found gardening, working on home improvement projects, tending to her animals, or enjoying the companionship of her three Golden Retrievers and two cats.